JMap is a Java network port scanner, a security tool to identify open ports on any host or network subnet. It features the ability to scan every host in a given network segment for a range of ports or a specific service. Both TCP and UDP are supported.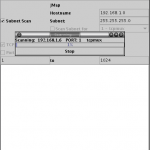 Platform: OS Independent
Version: 0.3.1
Download pre-compiled executable Jar
Requires: Java 1.4
This application is designed to be used as a security tool, so as to identify potential vulnerabilities on the systems that the user is responsible for. I take no responsibility for any improper use.
Source code provided here is freely available under the terms of the GNU General Public License.